Lapalala Wilderness School (LWS)
I had the opportunity to visit the wonderful Lapalala Wilderness School (LWS) in South Africa. 
A child's journey to learning through play and laughter will remain with them forever. The opportunity to give joy, bliss, and curiosity through a vast spectrum of teachings from various teachers are some of the fundamentals of LWS. As a child who was curious to learn, I would have loved spending my days at LWS. Instead, I created my own LWS. And now the LWS is available to so many children, it is my absolute joy and pleasure to be part of this team. I get to live it and experience it in ways I never could have imagined when I created my own LWS in my backyard. The ants I loved to follow in the grass and dirt lead me all the way to LWS. This is what LWS does for the children who attend this amazing school. The animals they learn from, the plants they discover, the sky they observe — no matter how far out of reach it may seem, like many dreams for children — are never out of reach. And this is what the children learn at Lapalala Wilderness School. Kids need to know they can dream. Kids need to know dreams come true! Kids need to know how they become the masters of their lives. At Lapalala Wilderness School the children discover all of life is in reach for each and every one of them.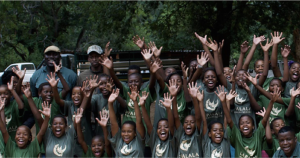 The Lapalala Wilderness School (LWS) is situated in the Limpopo Province of South Africa. It works with the youth of South Africa to promote an appreciation of the importance of sustainable development and respect for the extraordinary diversity of Africa's natural world, with a focus of identifying and mentoring the conservation leaders of the future. See www.lwschool.org for further information.
Since its inception 32 years ago, over 90,000 children and their teachers have attended courses at LWS. It is most encouraging to see how these young people are already taking up key environmental posts in South Africa. The School has been able to instil an awareness of the vital importance of conserving the continent's biological diversity to ensure sustainable socio-economic development and to improve the quality of human life linked to the 17 Development Goals of the 2030 Agenda for Sustainable Development.
Raising funds to support activities like this has never been more difficult as most of the major local and international donors are still redirecting their funds to programmes directly linked to Covid-19. The website will tell you where and how you can donate.
The school would appreciate any donation you can make to help support environmental and conservation education. And when we are free to travel without COVID restrictions — please consider sending your children to this amazing school. Africa is a wonderful place to learn and make new friends.